PHS Welcomes New Math Teacher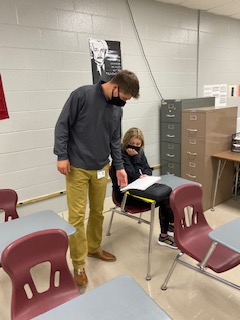 The start of a new school year holds potential for returning students and staff, as well as new teachers and staff members at PHS. One new addition to the halls this year is math teacher Jaxon Cronin. Cronin is a fresh face, not only to Paoli High School, but to teaching as a whole after taking the position as the Algebra I instructor.
Inspired by his own teachers after graduating from Forest Park, Cronin took both this influence and his passion for sports and coaching to Indiana State University. There, he earned a degree in mathematics and mathematical education which left him qualified to teach grades 5 through 12. Cronin admits it can be somewhat nerve-wracking to be a new teacher, but he's been very pleased by how great things have been going so far.
"Luckily, the students and staff here at Paoli have made my start, even in these crazy times, go fairly well," said Cronin. 
Happy to be here and ready for what is to come, Cronin says he is excited to build connections with his students and provide a safe space for them in his classroom, both as a math teacher and student council sponsor.