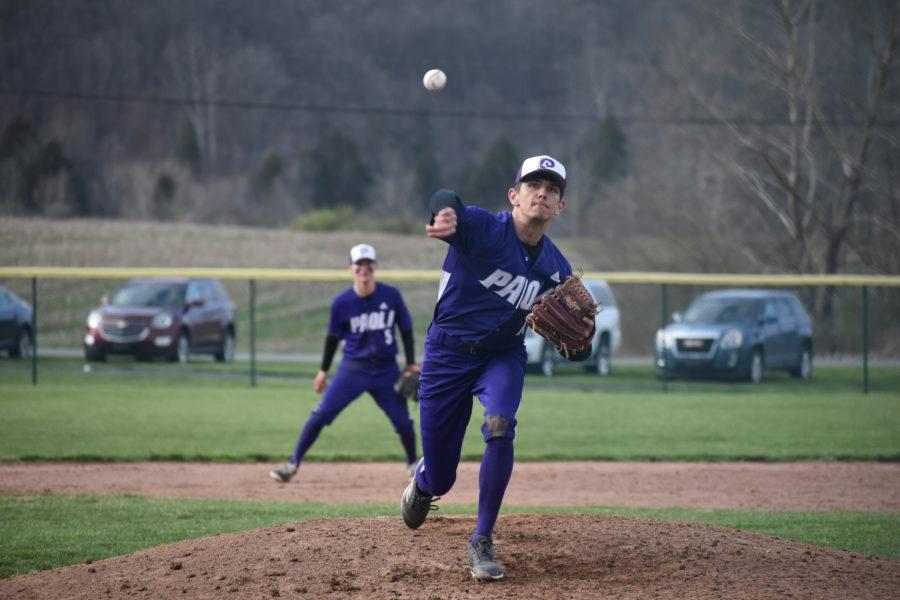 On Thursday April 7, the Rams Varsity Baseball team won their first PLAC game against the West Washington Senators 2-0. This win makes them 1-0 in conference.
Head Coach Jeremy Payton had a few things to say about this game.
"We played a good WW team tonight. Bladen (Patton) pitched very well for us and our defense played well. We had a couple nice plays by Carson Little with a diving catch at catcher and doubling them up," said Payton.
Senior Carson Little takes a break while catching during the Rams game against West Washington. Photo by Ashleigh Garcia
Payton gives credit to his offense for pulling in a few runs.
"At the plate we did a nice job manufacturing runs doing the little things we have been practicing. Trey led us off with a base hit in the 6th and Carson Little sac bunt to move him up. Then Brandon Cook drove him in with a base hit to give us a 2-0 lead and close out the game," said Payton.
Junior Brandon Cook waits on first base as the next batter steps up. Photo by Ashleigh Garcia
Payton acknowledged junior William Milner on his end of the game catch.
"William Milner ended the game with a great read on the ball to close it out," said Payton.
Payton yet again praises senior Bladen Patton on his wonderful performance on the mound.
"Bladen Patton went 7 innings with 5 hits 5 K's and 4 – BB. If we can get his pitching like this all season we will be in a lot of games with a chance to win. Great start to the conference. 1-1 on the season and 1-0 in conference," said Payton.
Senior Bladen Patton manages the mound while throwing a pitch. Photo by Ashleigh Garcia
The Rams will go on to face the Northeast Dubois Jeeps at Dubois tomorrow starting at 11 a.m.
Story by Ashleigh Garcia
Senior Dexter Brown sets up a tag at second. Photo by Ashleigh Garcia