Cookies and Criticisms: Staff Baker Shares Sweet Treats
For a year now, I have been baking cookies for my friends and peers. Ironically, I personally despise both my cookies and cookies in general. I do love the process of making them though and since I started, I have learned a lot about baking and recipes.
Most importantly, I have learned that it does not really matter what my cookies look like, as long as they taste good. This has been difficult because presentation has always been key to me, which has led to me throwing out batches of cookies in the past just because they were flat, even though they tasted perfectly fine.
When I have asked people if they liked my cookies, they all say yes — though they may be a little biased. I, however, am going to be brutally honest about the taste, process and overall turnout.
Let us begin with a fan favorite: S'mores. Everyone loves these cookies but they are a pain to make. I have to multiply the original recipe by five just so everyone can have their share. I have a specific giant bowl just for this one cookie.
I also have to take them out of the oven to add more marshmallow, Hershey chocolate and graham crackers and then put them back in the oven to finish baking — which is tedious.
Second on the list are my Oreo cookies. I love these cookies and they are honestly one of my favorite bakes as I only have to double the recipe.
What I do not like is the texture of the dough during the process. As I mix them all in with my hands, the Oreos are very rough. I also have to use an entire pack of them.
Next up is a throwback cookie and that is Red Velvet. I have not made these cookies is a while. I hate how big and poofy the cookies turnout to be.
I also use red food coloring for cookies to be that velvet color and it is very messy to do. Since it is way easier to mix the color in by hand rather than a mixer, my hands get stained red.
Other cookies I have made are gingerbread men. I have only made these once but they are what got my cookies popular at school because the recipe makes so many and I had extra.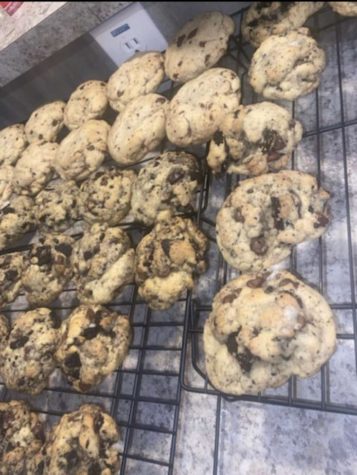 I love my gingerbread men and plan on making them again soon with the holidays coming up. I think the only thing I dislike about these cookies is how it takes forever to ice them all.
The next cookie is my favorite: Nutella cookies. These were the first cookies I made with filling in them. The worst thing about these cookies is that they take forever to make and I only get 12-14 cookies out of one batch. I do not make these often because of this.
Also, I despise how Nutella feels when it is frozen like it has to be for the recipe. It does not really freeze and just kind of melts in your hand which is gross.
The final cookie I am going to talk about is by far my least favorite. These are the strawberry cheesecake cookies. The first thing I don't like about these cookies is the texture. When I mix the strawberries into the dough, it feels mushy and is absolutely disgusting.
Another thing is it takes forever for me to make the filling because many people don't like cream cheese taste so to make it enjoyable, I have to mix in a lot of powdered sugar. That makes a huge mess and as a result, I will most likely never make these cookies again.
Baking is an escape for me. I love to listen to music while I bake and relax from my school work. I am grateful to have many people who love my cookies and want them all of the time.
The cookies above have definitely shaped me into a better baker. If anyone has not tried my cookies and wants to, they should just ask because the answer is usually yes.