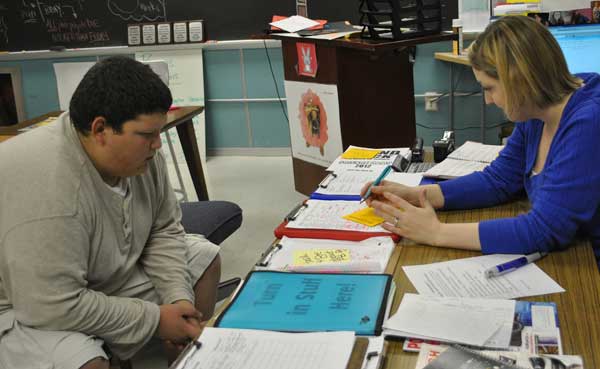 Photo by Morgan Babcock
Tellez overcomes obstacles cancer stigma brings
Juan Tellez was an average, everyday kid. He woke up, went to school and then came home.
But soon, Juan and his family would receive very terrible and upsetting news. In May of 2008, Juan was diagnosed with Acute Myeloid Leukemia or AML.
"I thought I was going to die when I first found out that I had cancer," said Juan.
Like all people, being told that you had a life threatening disease would be very hard and scary.
"I was devastated. You realized that your whole life is about to change," said Juan's mom, Shae Mahan.
Juan began taking different treatments at Riley Children's Hospital in Indianapolis. While at Riley's, Juan had to go through treatments such as chemotherapy: both the pills and the drip, and arsenic. Arsenic is usually used in rat poison but it is also for treatment in the type of leukemia that Juan had. Juan was stuck taking multiple different pills all the way up until September 11, 2010.
"I didn't miss school a lot because of appointments. I mainly missed because I was sick and vomiting," said Juan.
Juan did not miss much of his second semester of sixth grade, but he missed almost all of the first semester. Since Juan was gone so much, Juan had a hard time doing his work but unbelievably passed his classes. Juan and his family were gone from home a lot during his time with cancer. His family lived at the hospital for 41 days and they lived at the Ronald McDonald House for over 80 days.
When they were finally able to come home from the hospital, they were forced to move houses because over the summer, mold had grown in their house.
"We worried about the sick kids at school. Even something as simple as the common cold could have killed him," said Shae. "All of his friends and the staff at Throop were great! We could not have done it without them."
Every few months, Juan goes back to Riley Children's Hospital for blood work and checkups. Juan did not want any of his teachers to know that he had cancer because he was scared they would treat him different because he had cancer. Even though he had cancer, he does not like to be treated differently than others.
Like all moms, Shae is worried that Juan's cancer will come back.
"I worry about Juan's cancer coming back every day, every checkup, every headache, body ache or nose bleed, I worry," said Shae.
On October 15, 2010, Juan had officially won in his battle against cancer. Today, Juan is a ninth grader at PHS and has been in remission every since.
Story by Bailey Rankin