PHS Welcomes New Choir Director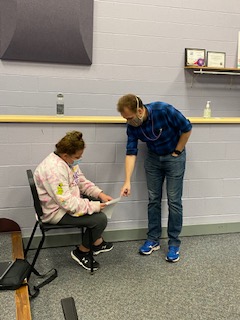 The start of the 2020-2021 school year ushered in a multitude of new rules, policies, and protocols for PHS. Along with these, there have also been multiple additions to the teaching staff, including Choir Director Chris Boveroux.
Although he is new to public school teaching, for the last two years Boveroux taught at the University of Wisconsin at Fox Cities, which is the same place he earned his doctorate of musical arts and choral conducting. This left him qualified to direct choirs and teach classes on a variety of musical areas including proper voice, music exploration, and lessons on guitar and piano. Boveroux came to PHS with a good idea of what young musicians need to learn in order to be successful and with the hope to guide students into refining those skills for their level.  
"I was really excited about the possibilities [of this job] even though the choir is not allowed to sing. It sucks, but…we can spend the year learning and building our skill set and our knowledge base," said Boveroux.
Although things aren't going exactly as planned due to current circumstances, he says he is glad to have the time to give students a good foundation to grow from. Boveroux is ready to focus on the positives and take advantage of these unexpected opportunities.