The Classroom Calls
Four Seniors Plan Careers Back to Classroom
Several of the students in the class of 2023 are planning to pursue careers back in the classroom as teachers. Four of these students have chosen courses during their senior years to make that goal one step closer. 
Seniors Isaac Cornett-McBride, Max Newkirk, Lara Brace and Aliza Allen have taken two different paths at PHS to help support their careers as future educators. 
Cornett-McBride and Newkirk have participated in the Career Exploration Internship, which is a class for students who are aspiring to pursue a particular career. The two seniors become teachers' assistants at the elementary school to help and learn from the educators at Throop. This experience taught the two important skills and gave them knowledge towards the job they planned to work for.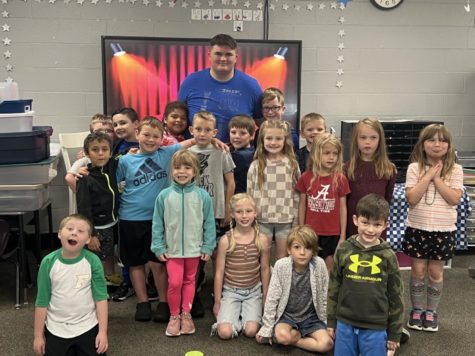 "I loved having this experience because I was able to work with students one on one and as a whole. I was able to learn how to deal with kids and how to encourage them. I have also learned a lot from the teachers I was shadowing. like how to address kids, how to help students read, and how to get students into routines," said Newkirk.
As for Brace and Allen, they took a different approach by enrolling in the education professions class with Danelle Manship as part of the education pathway. 
"Assisting the teachers at Throop Elementary has taught me a lot. From both sides, of being a helper and a teacher. I have been able to connect with each and every student in the room, it's a wonderful feeling to be expected and the students get excited when I attend their room," said Allen.
These classes not only helped them learn about the students, but also about the skills that are required to manage a classroom. 
"I really liked the opportunity to go down to Throop and learn from the teachers down there. Everyone was so nice and welcoming and I made connections and relationships with the students that I wouldn't trade for anything. I think going down there and learning from the teachers and seeing how they handle different situations has helped me in learning how to deal with certain things in the classroom when I'm down there and for the future," said Brace.
These classes are recommended for anyone who learns by experience. 
"I feel that the education-oriented classes are wonderful. With taking those classes, I have learned so much that you wouldn't learn from a book or a computer screen. I have learned so many things but a major one would be how to communicate and understand the students, may not seem that big to most people but it was a huge thing to learn," said Allen.
Any student interested in joining the principles of teaching class with Danelle Manship should contact the guidance office.