Rams Bring Home First Conference Win
The volleyball team defeated Crawford County for their first PLAC win
Coy Busick, Paolite Staff Writer, Sports Staff
August 29, 2022
The Lady Rams volleyball team won against the Crawford County Wolfpack in three sets to bring home their first conference win. The Rams are currently placed fourth in PLAC with a conference record of 1-1. 
Head Coach Alexis Speer describes her favorite part of the game.
"The best part of the game for me would be the girls' energy as we were pushing close to the end of a set and it was close," said Speer.
Speer expresses how she feels her girls did.
"The girls did a great job of staying focused throughout the game.  We got down a couple times throughout the match and did a great job of fighting back to win," said Speer.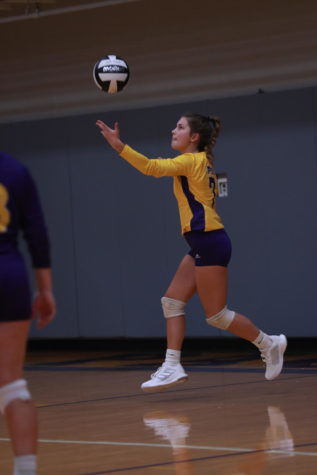 Senior River Fleming reflects on the game.
"I'm glad my team pulled through at the most crucial time in the game," said Fleming.
Speer thinks ahead on ways for the team to improve.
"Although we don't have much time to prepare for the next, we will focus on improving a few things from the last game.  Serve receive is something that we will definitely continue to work on as we move throughout the season," said Speer.
The Rams will play at home against the Lanesville Eagles tonight with JV starting at 6 p.m.