The Love Of Reading
Sims Finds Enjoyment in Crawdads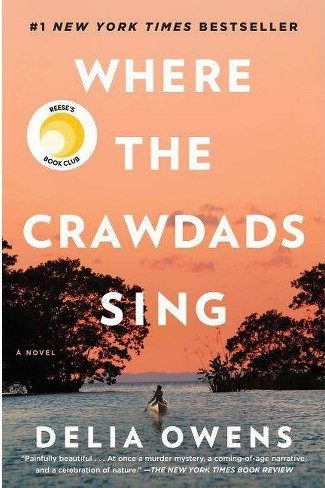 Ellie Sims, Paolite Staff Writer
September 23, 2022
Recently turned into a movie, the book "Where the Crawdads Sing", was published on August 14, 2018. Authored by Delia Owens, the book is a New York Times bestseller and has won the British Book Award. Owens has successfully sold over 15 million copies of the novel, which prompted the creation of a hit movie released in July of this year.
"Where the Crawdads Sing" is a story of resilience, survival, love, loss, loneliness, prejudice and determination.
This book goes back and forth in time to tell the story of Kya Clark a.k.a. the "marsh girl." She lives in the marsh by herself, as her mother left her at an early age. Soon, all her siblings follow, leaving Kya alone with her often absent, drunk and abusive father. She was left to care for their home, cook, clean and take care of both of their needs.
Eventually, her father left too, which led to nature becoming Kya's caretaker. However, she was a clever girl who knew the marsh inside and out and found ways to make money to provide for herself.
As Kya grows and learns more about life through her interactions with the creatures of the marsh, two young men enter her life. One is her brother's older friend, Tate, who teaches her to read and shows her acceptance and happiness. Tate is the epitome of a golden retriever and would give Kya the world. The other boy, Chase, brings her hope of a future but will not introduce her to his friends and family. He, on the other hand, is the epitome of a snake.
As Kya lands herself an opportunity to publish her very own book about the marsh someone is murdered and rumors swirl through town of possible suspects, number one of their list being Kya Clark. Could she be the killer? All in all, this book had a little bit of everything that I love: a likable main character who pulls at your heartstrings, murder mystery, atmosphere, drama, coming of age and romance.
"Where the Crawdads Sing" packs a very powerful, emotional punch, including details of abuse and sexual assault which readers should be wary of. Yet, there are several characters who show kindness including Tate and the local grocery owners who always believed in Kya.
The plot is absolutely insane, with twists you would never see coming. Aside from the plot and characters, the writing is absolutely beautiful. Owens' detailed imagery guides her readers through the surroundings and feelings of Kya. The soul in this book truly saturates the pages.
"Where the Crawdads Sing" is beautifully written, chock-full of poetry and vivid descriptions of the marsh. I highly recommend this book to anyone who loves a good murder mystery, but also, those who are a sucker for a romance novel. These two genres are my favorite, so the combination of the two is perfection.
The book is thoughtful, evokes emotion and transports the reader back in time to the marsh. The sensitive topics Owens covers are done in the most graceful way. I loved every page and hope you do too.