Higgins Family Grows Internationally
Science teacher Melissa Higgins is accustomed to driving three kids to school each day. The number of PHS students connected to the Higgins home has grown this year with the addition of three foreign exchange students. Having always wanted to host foreign exchange students, the only thing holding the Higgins family back from doing so in the past was Melissa's husband Chris's career in the military. Now that he is retired, they are eligible for hosting and began the process last summer. The idea to host this year was prompted by their daughter junior Carley's friendship with Oihana Palacios, a foreign exchange student who lived in Paoli last year.
The Higgins family hosts sophomore Elena Carmona Munoz and junior Matteo Sambruni. Melissa's mother, Connie Fruchey, hosts sophomore Lupe Pacheco. Carmona Munoz comes to Paoli from Cordoba, Spain. Pacheco is here from Basque Country in Spain. Sambruni is from the small town of Mariano Comense in Northern Italy.
Carmona Munoz shares a room with Carley, Sambruni bunks with freshman Charlie and Pacheco has her own room in the Fruchey home.
Each of the foreign exchange students have their own reasons for wanting to come to the United States and have had different experiences so far while being here.
Carmona Munoz remembers having the desire to visit America since she was a little girl.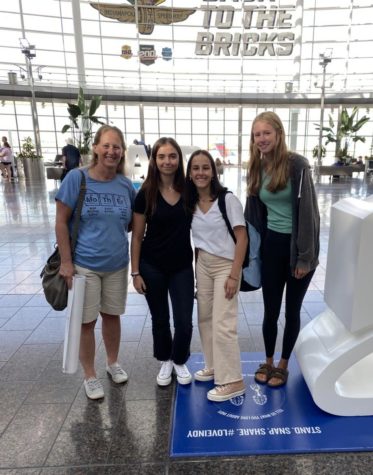 "I've always wanted to live this experience. I wanted to learn American culture, study in an American high school, improve my English, and most importantly, meet incredible people that I would never forget and have the [best] year of my life," said Carmona Munoz.
She has already enjoyed the short amount of time she has spent with the Higgins family and is very grateful for being placed with them. Carmona Munoz thanks them for making her dream a reality.
"To be honest, I love my host family and I couldn't be happier. The time I've been here they showed me who they really are, an incredible family. They treat me as one more of them, with them I feel that I can be who I am and I feel like [I am] home," said Carmona Munoz.
Sambruni decided he wanted to come to America after hearing about the foreign exchange program from one of his friends. He can speak Italian, English and Spanish. He had hoped to go to a country that speaks English as a first language, the United States came to mind for him.
"I have to say that I couldn't have found something better than this, thanks to the fact of having three people of the same age as me in the house that already had groups of friends here helped me fit in the Paoli community easily," said Sambruni.
Sambruni's two main hopes for this year are to grow friendships he will always remember and to overall have a good experience this year. So far, he is off to a good start. In the Fruchey household, Pacheco is hoping her time in the United States lives up to what she envisioned when she joined the foreign exchange program. Her primary reasons for joining were to see what American life is like and to improve her English. Furthermore, Pacheco wants to make good friends while she is here.
"I really like it [here]. [Connie] is so nice and all the Higgins are also," said Pacheco. The three have learned a lot while being here, but the Higgins family has as well. The foreign exchange students have shown them some things that go along with their cultures – including recipes for Italian coffee and information on Spanish festivals and events.
It helps that all three students want to be involved in school activities that fit into the Higgins busy, athletic family. Carmona Munoz and Pacheco are football managers for the team senior Marty and Charlie play on. Sambruni plays on the tennis team with Charlie. The girls are also planning on playing basketball with Carley.
"It has been a positive experience so far. Before school started, we had six teenagers at our dining room table. Some spoke English, some Spanish, and one Italian. They were playing Spot it! – telling each other the words for the objects in their own languages. That is one of my favorite memories so far," said Melissa.