Annual Blood Drive Gives Back
Donations include nine power red donations, which is two pints of blood
The annual blood drive was brought back this year on November 1 by the Red Cross, and was hosted in the Auxiliary Gym.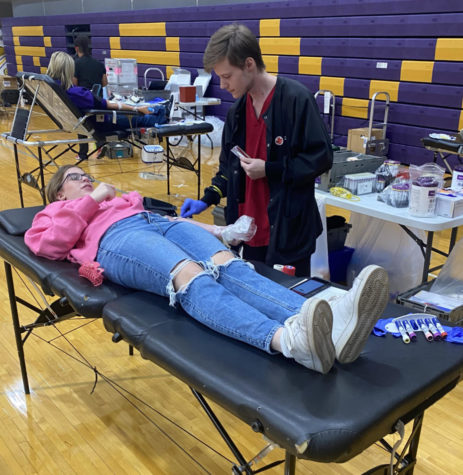 Many students and staff helped to work the drive, including FACS Teacher Debbie Andry and Blood Drive Coordinator Danelle Manship. They received help from many student workers, including seniors Lara Brace, Serenity Sweet, Cora Austin, Aliza Allen and junior Ruby Chestnut.
The Red Cross brought in multiple representatives and equipment in order to draw blood from donors.
"We had nine donors do the power red donation which results in two units. A power red uses an automated process that separates your red blood cells from the other blood components, and then safely and comfortably returns your plasma and platelets to you," said Manship.
This blood drive was also used as a learning experience for FCCLA members.
"
We collected 50 units of blood, which is the most we have collected since 2015.
— Blood Drive Coordinator Danelle Manship
"Working the blood drive and seeing all the people that came in made me feel very thankful that we have so many staff & students helping out other people that need the blood. One pint can help up to three people," said senior helper Serenity Sweet.
Overall, the drive was considered a huge success — even in comparison to the previous years of donation.
"We collected 50 units of blood, which is the most we have collected since 2015," said Manship. "The Red Cross workers along with Mrs. Andry and I were impressed with the turnout and how willing our students and staff were to donate."