Junior High Team Adds Win and Loss Heading Into Weekend Tournament
Junior High Boys Basketball faced the Springs Valley Blackhawks this past Tuesday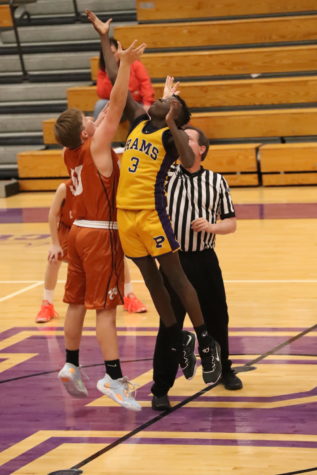 The Junior High Rams team added a win and loss this week in their game on Tuesday against The Springs Valley Blackhawks. The seventh grade lost with the score of 36-31, and eighth grade won with the score of 46-32. Seventh grade's record is now 5-6 and eighth grade's record is now 8-3. 
Leading scorer for the eighth grade was Ian Sullivan with 18 points and leading scorer for seventh grade was Hunter Settle with 10 points. 
Eighth grade coach Mike Smith sums up the games.
"Seventh grade made a very good comeback after being behind by double figures and just fell short of winning. They played hard, but we need to take better care of the ball," said Smith.
Smith needs his team to work on the basics in the upcoming games. 
"Eighth graders played hard. We need to do more of the little things like box out and recover," said Smith. 
Seventh grade coach Matt Smith has suggestions on ways the team can improve.
"They need to come out ready to play from the start. They usually take a while to get going and that's what happened at Valley," said Smith. 
Sullivan sees ways his team can improve on both sides of the court.
"We can always do better defensively, but on offense we need to work on taking better shots," said Sullivan.
The junior high will travel to Salem for the Salem Tourney tomorrow, January 14, starting at 9 a.m. The teams will face Bedford and South Central to start the tourney.