The Babies Are Back
As covered in the previous issue of the Paolite, new life was expected to arrive at PHS in December and January. Ag classes artificially inseminated their pigs and were awaiting the births of the piglet litters.
Seventh grader Kutter Springer's pig, Patricia, was the first to become a mother. She had a total of seven babies, though complications during birth left only four piglets survived.
During Patricia's birth, it was discovered she had a rare reproductive polyp condition. There was no way of knowing about it until she began the process. At that point, the goal was to save as many babies as possible, which they did. Shortly after the pigs were born, Patricia died.
"I liked having a pig in the barn because it is a great learning experience and is very fun. It's fun when you win but when you win with pigs that you raised it is a lot more fun. I would recommend having a pig in the barn because it's fun, and I love to show pigs. It is fun to match a boar with your pig and hope you get good ones to do good in the show," said Springer.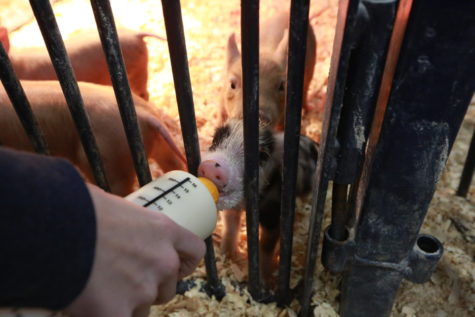 The next pig to give birth was sophomore Haylie Gilliatt's pig, Bean. She gave birth to six piglets, but only four survived.
Eighth grader Graydan Padgett's pig, Beefcake, was the next to become a mom. She had 11, 10 surviving.
Sophomore Keeley Scott's pig, JV, went next. She had 11, nine of which survived.
Sophomore Chloe Smith's pig, named Millie, went next. She had eight piglets, and all eight survived.
Seventh grader Lucas Carmickle's pig, named Freya, gave birth last. She had ten, but only four survived.
"Our students rose to the challenge and finished off our season on a high note. So overall, we had our lowest of lows, and our highest of highs. We cried together, we celebrated together and most importantly we learned and grew together," said Agriculture Science and Business Teacher Cory Scott.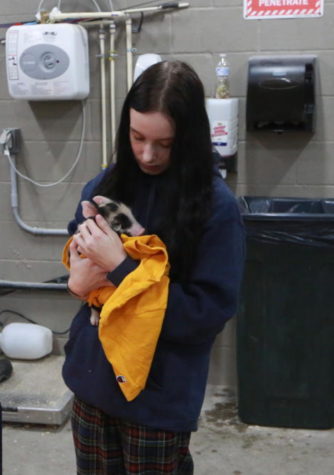 Although this year was not as productive as usual when it comes to the pigs, it was an extremely valuable year for the students. They got to learn that even when the conditions are perfect, everything may not fall into place. Sometimes during birth, pigs just do not make it. Other times, the mother pigs may accidentally sit on their babies without knowing it which is fatal due to their large size difference.
"Bean started farrowing shortly after the tragedy (Fat Pat's birth) and became a wonderful foster mother and raised Pat's babies right along with her own. We also achieved a super high note with JV setting a new farrowing record. JV farrowed 11 beautiful babies in 1 hour and 7 minutes completely unassisted. Beefcake, Hella, Rosie and Sugar all had relatively normal farrowings. Freya presented a few challenges, but nothing that our students couldn't handle. We finished this season with Millie who had a wonderful farrowing, but then threw us a surprise 24 hours after she had told us she was done," said Scott.
The students in Scott's classes have played a huge part in taking care of not only the piglets, but the mothers as well. They help clean out the pens, per usual, but also help out with tasks that need to be done for the piglets. These tasks include ear notching, tail docking and teeth cutting, as well castration.
"My favorite part about helping out with the piglets is getting to play with them and watch them grow up. I like ear notching them, because it's really easy and I've done it for several years," said Veterinary Careers I student junior Abby Tapp.
Once all of the tasks are done to the pigs, they will stay in the barn until it comes time for the annual pig sale in March.
Leave a Comment
Your donation will support the student journalists of Paoli High School. Your contribution will allow us to purchase equipment and cover our annual website hosting costs.
About the Contributor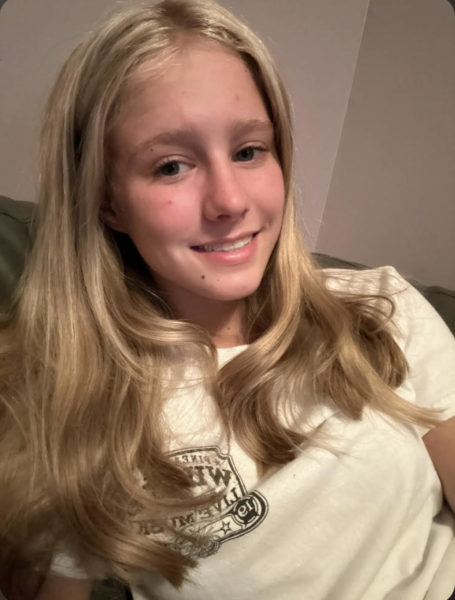 Carley Higgins, Paolite Editor-in-Chief
My name is Carley Higgins. I play volleyball and basketball and also run track. I love spending time with my friends, especially when we go out to eat...