Deaton Works to Educate and Erase Substance Abuse
This year, PHS has welcomed new School Resource Officer John Deaton. Deaton has many plans to create a comfortable, safer place for our students and staff. Deaton recently spoke at the February school board meeting and addressed the board about his hopes in creating a safe environment for the students in this building, and to reduce the use of illegal substances by students and to hopefully reduce substance abuse in our community.
The biggest leap in making these improvements is keeping these substances out of the building. "Clearly we don't want anybody bringing vapes in here. We don't want anybody bringing either nicotine or THC vapes, cigarettes, weapons, nothing of the sort. So I'm always making sure that I'm diligent about watching students and knowing that it all goes back to the first line of building that relationship with those students, knowing them whenever I see them, if they look suspicious, or if they look upset," said Deaton.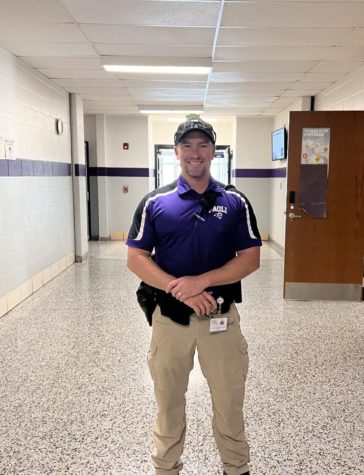 Doing canine sweeps is another way to help prevent the use of substances in our building. 
"Part of the canine sweeps is catching some of the substances that may be brought into the school. But the bigger part is keeping them from bringing it all together. The hope is obviously to prevent the use of dangerous substances and keep people from becoming addicted," said Deaton.
Deaton is also working with outside help to teach our students about substance abuse.
"I'm working with Chrissy Evans, who was a certified peer recovery coach . She is currently helping people to move past their addictions. She also has taken some classes that she wants to share with the students to try to stop and prevent the use. It's mostly opioid driven and the funds that we have received at the police department is from the opioid sediment or settlement," said Deaton.
The big picture Deaton is trying to portray is to reduce the substance abuse in our school, which will hopefully reduce the abuse outside as well, making for a much more positive community. "The ultimate goal is to stop addiction and to basically make this a better, healthier world for us and obviously for our kids," said Deaton