2022-2023: Peaks and Valleys
Staff Reflects on Year Full of Highs and Lows
As we are nearing the end of the school year, it is time to look back at the most memorable moments for our media staff.
For some students, the Amazing Race has been their favorite part of the year. It offered us an opportunity to bond and get to know their peers who they were in the same homeroom with. It was essentially a big treasure hunt, and the homeroom which got a picture with everything on the list got the most points.
The next memorable event for our staff was Macho Man Volleyball and Powder Puff Football. The event allowed for the students to have fun playing sports they usually don't play. For a lot of the staff members, it was their first time participating in the event since COVID. We hope this event will be able to become a tradition at PHS like it was before, especially since so many students enjoyed it. Thank you to Student Council for bringing this back.
The Peddler's Market was another old PHS tradition that was restarted this year. We all had a good time planning and participating in their own businesses run by their homerooms. With so many options for business, we were able to have a large variety of booths to shop at.
Moving towards the end of the school year, a big chunk of the staff members had the most fun at Prom. It gave them an opportunity to get dressed up, take pictures, eat and dance with their friends. Even After Prom allowed for even more time to spend with friends and even win prizes.
Another PHS tradition that helped us make it through the school year were the cheer blocks. During football and basketball season is when they are the most popular with the students. We got to dress up with many different fun and interesting themes.
Though we made many positive memories, we of course have a wish list we would hope the administration and teachers might consider changing when moving into next year.
The most common rule we would like to change is the cell phone policy. Most of us would appreciate it if we could use cell phones during the school day.
Another school policy a lot of us would like if it was changed was the dress code. We feel as though a lot of the rules are mostly target female students. The shorts we wear have to be a certain length, the tank tops have to be a certain width. The females at PHS required to dress to so not be a distraction to the males. We feel as though if we should feel comfortable at school, we should be able to wear what makes us comfortable as well.
The cheer blocks is another thing we would like to see a change in, specifically for basketball games. No matter who we play, or where we play, we feel the cheer block is under constant surveillance. Other schools get to taunt us as much as they want, but the second Paoli's cheer block starts to say something back, we have someone telling us to be quiet. Not being able to respond to our opponents lets other schools walk all over us. They get to scream and chant at us all they want, saying whatever they want with no punishment.
Another part of the school year we would like to see change is the half days PHS introduced this year. We would appreciate it if there were to be a better use of these days. For almost all of the classes, a 20 minute time leaves no time to get anything done. These days would be more beneficial if they were used as study days, or even fun days. Constantly being loaded with the stress of school and sports, having one day a month to watch movies, play games or do anything to help relieve the stress would be very appreciated by all of us. We much prefer the big activities like Peddler's Market and the Amazing Race as opposed to the short class periods.
We could not finish a staff editorial about what we would like to see changed in the world if we didn't include gun violence in schools. We are fortunate our community has not experienced a tragedy here but all of the recent gun violence has made us nervous and scared for our well being. This type of violence can be almost anywhere, as we have seen all over the news. It has made us uneasy, and quite frankly some of us are sometimes scared to go to school.
For the majority of us, we feel as though creating gun laws would solve the issue at hand. If gun laws are not going to be put into place, we also believe gun regulations may help.
We believe more things should be done to stop these shootings from happening. Something needs to be done to change the narrative. We don't want to know a victim or become victims.
Leave a Comment
Your donation will support the student journalists of Paoli High School. Your contribution will allow us to purchase equipment and cover our annual website hosting costs.
About the Writer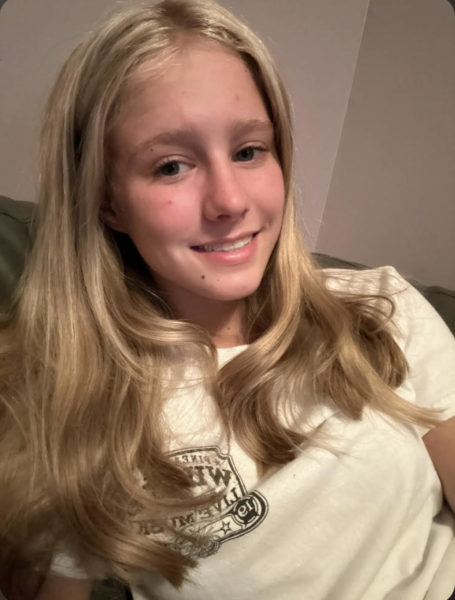 Carley Higgins, Paolite Editor-in-Chief
My name is Carley Higgins. I play volleyball and basketball and also run track. I love spending time with my friends, especially when we go out to eat...