Daugherty's Honored with Check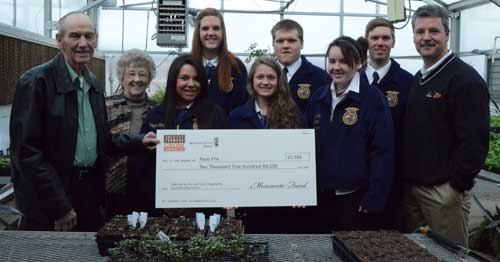 Glen Murphy knows that the odds of winning the lottery are slim to none.
Murphy, a representative from Monsanto, an agricultural company, also knows that it is equally difficult to win a $5,000 prize from the company he represents, because there are over 60,000 applicants for the competition.
Local Orange County residents, Jim and Carol Daugherty won the $5,000 prize. On Thursday, March 21, the Daughertys decided to donate their prize to two different organizations, one being the Paoli FFA and the other Orange County Cattlemans Association. Both groups received a $2,500 check.
The money is awarded to an area that has been stricken with drought, and the winner is to choose an organization to give the money to.
"The drought of 2012, this past year, it took a toll on a lot of communities, not just in Indiana, but across the region," said Murphy.
Murphy came up to PHS to present the check to Steve Scott of the Cattlemans Association, and the other was presented to the officers of Paoli FFA.
This is not the only way the Daughertys have contributed to their community. They also donate cattle and deer meet to the local food shelter to help feed those around the community that cannot afford food.
Jim wanted to give the money to Paoli FFA; however, he plans for the money to spread around the community. Jim wants each of the FFA chapters in the area to get a cut of the money. This comes out to $833 each for Paoli, Orleans and Springs Valley.
"It's a good organization," said Jim.
Jim and Carol help both Orleans and Paoli chapters with cooking and helping for their banquet. Jim was a member of FFA 50 years ago at Paoli.
President Jordan Cadle plans to use the money they received to help get members out of the county and offer more experience to the members of the chapter.
"We travel all across to state in order to meet other chapters, and have those experiences," said Cadle.
Cadle and his fellow officers were pleased to receive the money from Murphy and the Daughertys.
"It's an honor to support programs like FFA," said Murphy.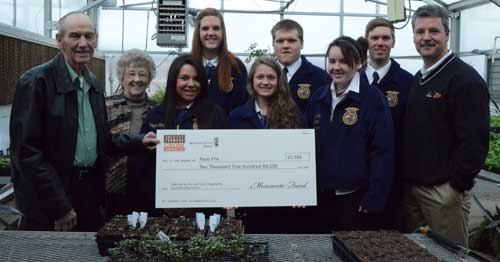 Story and Photos by Breanna Daugherty