Hayle Ater: From High School Student to Life Saver
Hayle Ater is just your average high school senior. She goes to school, does her work and goes home.
But, she is not what she seems.
Ater is planning on becoming a CNA, which is a certified nursing aid. In fact, she just needs to take her state test to get her license. It is a good start and she will be making money.
But that's not why she is doing this.
Ater has always been interested in health careers.
"I've just always grown up with it" she said. Hayle says that her aunt Marsha, an RN, has inspired her. Her two older sisters are also nursing aids.
Ater has also been taking Health Careers and Medical Terminology at the vocational school.
"She definitely has shown an interest in the nursing profession." said Ater's teacher, Mara Eisele, who is also an RN.
"She will be a true asset to the Health Career Industry, and has concern for the welfare of others. She showed kindness and compassion for those she cared for in the long term care facility during her clinical training." Eisele said.
Even though she took her classes and did not have to do this, Ater still volunteered over the summer at Paoli Health and Living, a local nursing home.
"I did one on one visits, helped clients to go where they needed to go to, and just did the little things, like painting nails." Ater said about working with her clients.
Most people run into obstacles while pursuing a career, like money. Ater's grandma paid for her classes, so that was not a big issue.
One thing she did run into, though, was procrastination.
"I just found things to keep myself busy," Ater said.
Although Ater is becoming a CNA now, she does not want to be a nurse forever.
"I want to work with teens that have cancer," Ater said. This is also known as pediatric oncology. This is a challenging goal. She needs to go to college first, though.
Ater said that she is planning on getting her Bachelor's degree, which is two years. She is either going to Ivy Tech or IUPUI. Ater is also planning on going right after high school. Ater said that she might go for her Master's, but is focused on her Bachelor's for now.
College is an essential part of going into health careers, which Hayle knows from experience.
Ater's aunt had to go to college for at least two years to get her RN licenses.
Although Ater's aunt is a nurse, she is not the one who encouraged her to go into health careers. It was herself. Ater has grown up with it, and that is why she wants to go into the medical field.
It is very mind blowing that your average day high school student can do something so life changing. Ater has a passion of taking care of people, and has clearly put that to good use.
Story by Emma Walker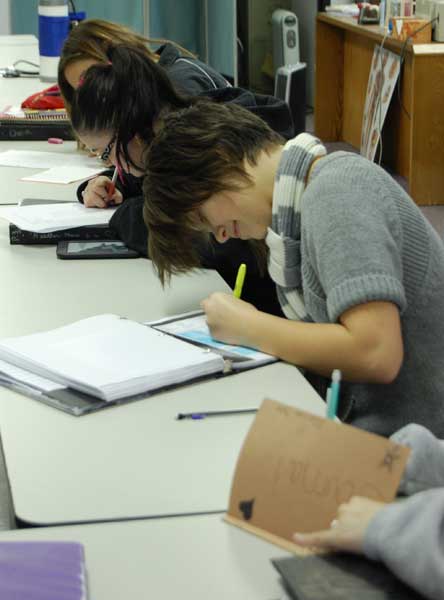 Photo by Wes Phelps