Kamedas Add Another Future PHS Star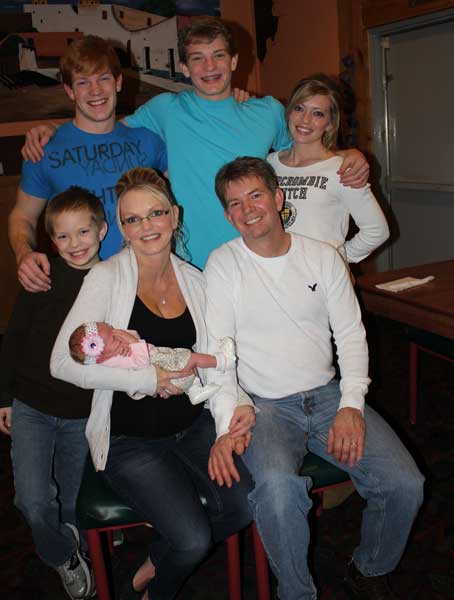 Many people involved in Rams sports know the athletic family of the Kamedas.
Throughout the past thirty years, Scott, Kiaya, Channing and Tanner have made history and broke multiple records in Paoli's Track and Field. The father, Scott, holds two records here at Paoli, which consists of the long jump record of 21' 9 ½" and the 800 meter relay record. He was a sectional champion in the long jump and made it to state during his senior year at Paoli High School during 1984.
Scott and Lisa are the parents of five children that have went, are currently enrolled in, or plan to go to PHS. The oldest is Kiaya, who graduated in 2008. Next is Channing, who is a senior at PHS. Then there is Tanner, who is a sophomore at PHS. Jaden is in the fourth grade and used to be the youngest of the four.
The three oldest also have their own records at the high school.
Kiaya was a sectional champion in the long jump and qualified for state during 2008. She still holds the girls long jump record of 17' 3" here at Paoli.
Channing was a sectional champion in the long jump as well in 2010. He placed in state the same year.
Tanner was PLAC All Conference in the 400 meter relay during his freshman year.
Until last Friday, Jaden was the youngest child of the Kamedas. But on February 10, 2012 at 4:55 p.m. Scott and Lisa had a baby girl. It was their fifth child together. Her name is Teya Elizabeth Kameda.
Tanner, the 16 year old son, talks about his new addition to the family.
Tanner says that he has to help take care of the new baby as well as his younger brother while his parents are busy. Since she was born, Tanner has helped feed and held his new sister multiple times. He is proud of Teya and says that he smiles every time he holds her.
"I think she is very cute," said Tanner.
Tanner is surprised that the baby girl resembles him so much.
"I think it looks exactly like I did," said Tanner.
Tanner says that the rest of his siblings have been very excited about the new baby. Although neither Channing nor Tanner have changed any diapers yet.
Tanner says, "We're all excited because it's a new baby sister…. DUH!"
Tanner's older brother Channing seems to be the most excited, and takes care of Teya like it was his own daughter.
"Channing is always around her and acts differently towards her," said Tanner.
"It is very exciting and a good experience for me as well as the rest of my family," said Channing.
When the baby was born, the youngest brother Jaden almost passed out with shock. He, as well as the rest of the family, was in the room during the birth.
"His face turned as white as a ghost," said Tanner about his little brother.
"I don't think Jaden really realized he was going to be a big brother until he saw the baby himself," said Channing.
The older siblings in high school are surprised because of the age difference. When Teya graduates from PHS, Tanner will be 34, Channing will be 36, and Kiaya will be 40. The age difference between the children of Scott and Lisa Kameda is tremendous.
Even though this is the fifth Kameda, the family is still stronger than ever. Tanner and the rest of his family are excited to raise her and cannot wait to see what type of future she has.
 Story  By Ethan Wells