Burton starts high school career off strong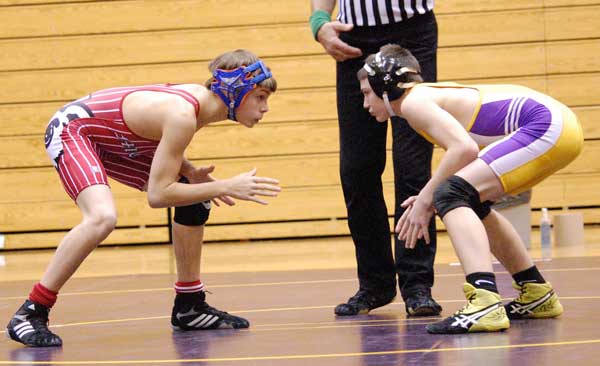 Photo by Bre Daugherty
The weekend of January 28 was the IHSAA Wrestling Sectional for numerous Indiana high schools.
Many individual athletes from schools across the state made it past the tournament. To make it out of Sectional, a wrestler must place in the top four spots of his weight class.
One wrestler in particular placed first in his weight class at the Southridge Sectional by only winning one match. That wrestler is Paoli's freshman Nate Burton.
Burton is the starting 106 pound wrestler for Paoli. At the start of the tournament he got a bye, which is the same as not having anybody to wrestle in the first round.
His next match was a forfeit by one of the many teams who did not have a 106 pound wrestler.
Burton's next match was against a wrestler from Jasper who Burton beat by points. During the final round of Sectional, Burton's opponent from Vincennes Lincoln had to forfeit. Why? The young man from that school had wrestled all day up until the final round because it was required to have a physical. The young man from Vincennes Lincoln had to leave and forfeit his final match so he could get a checkup.
At the end of the day, Burton had claimed a Sectional title as a 106 pound freshman by only winning one match.
The next week was Regional at Jeffersonville. While there, Nate went undefeated until his very last match which was the championship.
Burton's opponent was a very strong one from Floyd Central. It was a very good match, but in the end Nate was beaten by points. Finishing second at Regional allowed him to move on to Semi-State.
Nate wrestled decently at Semi-State, but his competition was better. He lost his first round match which was his last round of the season.
All in all Burton had a very good season for a freshman. He broke thirty wins which is a very big accomplishment in wrestling. He also won Sectional and qualified for both Regional and Semi-State. Burton continues to get better every day and plans to work hard in the offseason.
"I think that I had a pretty good year," said Burton, "but next year I hope to do even better."
Story by Ethan Wells