Thomas earns spot in top Purdue program
The first acceptance letter from college for a high school senior can be the greatest thing in the world. For senior Jaclyn Thomas, her acceptance was a memory she will never forget.
Thomas was recently named one of 30 people accepted to the Purdue University Veterinary Technology Program for the fall of 2012.
"Thirty out of 120 students get accepted every year, and I was one of them," said Thomas.
Thomas went a through a long process before learning the news.
"One hundred and twenty people apply by November 15, and through the month of January 60 people are offered an interview," said Thomas. "Out of those 60 people, 30 are accepted."
Thomas went through the same process, but she was always prepared for the news.
"I had to apply by November 15, but I had already turned in my application on October 10," said Thomas. "I did not hear about getting an interview until January, and did not find out I was accepted until February 22."
Thomas's excitement could not be contained the day her letter came in.
"I was completely surprised and overjoyed," said Thomas. "I'd been waiting so long, so it was a huge relief and I couldn't stop smiling."
This program is not very different; it is just like any other college degree.
"I will be enrolled in this program for four years," said Thomas.
After Thomas is finished with her schooling, she plans on coming back home to help at local veterinary clinics.
"I hope to come back and find a job at a local or surrounding county vet clinic," said Thomas. "I plan on shadowing Dr. Bradley Cooper this summer to see what my job will be like."
Thomas's achievement is one that anyone can be proud of. Striving for excellence is always a great goal, but achieving it makes the goal so much better.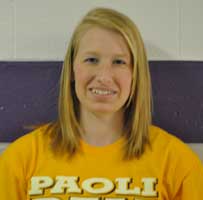 Story and Photo by Ian Bostock