Howard happily engaged
People feel love no matter what age they are. Love does not matter whether you are eight or 18. This is true for many teenagers including senior Rachel Howard.
For those who do not know Howard, might not know the fact that as a senior, she is engaged to be married.
"It is the happiest feeling in the world because it is one step closer to us spending the rest our lives with each other," said Howard.
Howard and Jacob Bean, 22, have been together since July of 2011. The two have been engaged for almost a month as of February 4.
So how did he ask the big question?
"He got all quiet and shy, which he never does, and said I had the most beautifulist eyes. Then he pulled out a candy heart that said 'marry me' on it," said Howard.
As for her fiancée, Bean had a few words of his own about Howard and their engagement.
"Rachel is the most amazing person I've ever met. When I asked her to marry me it was because I know I will love her until the end of time and even then may our two souls endure whatever that may bring together. I love you Rachel Howard," said Bean.
Considering Howard is still in high school, a person might not take her love or relationship seriously. But this possible discouragement does not bother Howard or Bean.
"Even if people discourage me, it wouldn't bother me because people's opinions will not change the love I have for him," said Howard.
As mature and smart as Howard is, she might still need help or support from the two families.
"My family doesn't really care. His family is very happy and supportive," said Howard.
Howard and Bean are still currently dating and are still currently engaged and the couple is expected to be married in the following spring of 2013.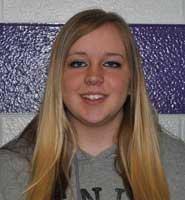 Story by Brooklyn Dotts