Student Sports Feature: Tasha Tedrow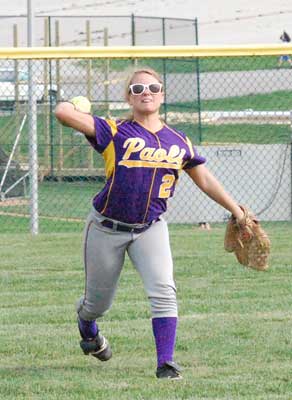 Senior Tasha Tedrow
 What is your favorite part about softball?
Hitting the ball.
What position do you play?
Outfield.
What team or game do you expect will be most difficult during the rest of the season?
 I think we have the capability of beating everyone on the rest of our schedule, but the most difficult would be Orleans since we've lost one game to them already.
  What are you better at, hitting or fielding?
Hitting, for sure.
What goals do you have for the team this year?
 To win sectional is the main goal. We've already accomplished one, group communication.
 What is a personal goal you have for this year?
 I want to have the best batting average and get better in the field.
  What is something you feel you need to get better at in softball?
I need to be more consistent in the field.
 Who is someone you really admire on the softball team?
 Taylor Pigg, an amazing pitcher. Coach Dittmer, he goes beyond what he has to for our team. I'm very thankful.
Feature by Ethan Wells; Photo by Breanna Daugherty