photo by Breanna Daugherty
Avery Rogers is an eighth grader and has been cheering since fifth grade.
Q: When your squad stunts, what is your job?
 A: Flyer.
 Q: What is your favorite part about cheerleading?
A: Stunting and jumping.
 Q: What is something that challenges you in cheerleading?
A: It is a challenge to teach newer girls the material.
 Q: What inspired you to become a cheerleader?
A: I just tried it and it was fun.
 Q: What are your cheering plans for the future?
A: I plan on cheering in high school but not in college.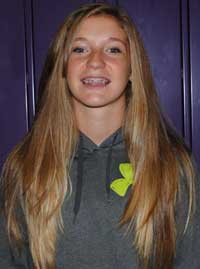 Feature by Morgan Dotts