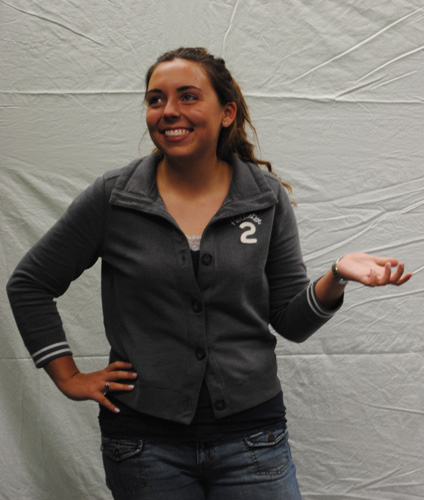 Last meal you ate…
Family reunion food actually. That is always fun, and someone always brings a bucket of chicken.
Last person you kissed…
My mother.
Last 'F' you got in school…
The last 'F' I remember was in Mrs. Crews's room. I was talking during a test. There might have been one after that, but I remember that one well.
Last text you sent…
I was texting a friend. Out of context it would probably be totally boring. Probably… "Yeah."
Last time you cursed…
Ladies don't curse.
Last thing you purchased too much of…
Probably a vegetable, you never know exactly how much you'll need, then they just lie around.
Last outfit you wore that made you smile…
There is never really a smile, just confirmation. I guess a costume.
Last time you were really angry…
Band practice.
Last gift you gave…
I got my brother a golf shirt at the band's silent auction.
Last person you said sorry to…
I say it a lot.
Last time you were embarrassed…
That family reunion we were talking about.
Last thing you do before you go to bed…
Read.
Last lie you told…
Ladies don't lie.
Last person you snitched on…
My dog (sorry Belle).
By Tara Blackburn
Photo by Taylor Pigg