Don't Cry, Uyesugi

Auditorium naming to honor an educator dedicated to arts in Paoli 
When a teacher nears the end of a long career, they are often given a plaque, a bell or a gift in honor of their years of service to teaching.
But for Ruth Uyesugi, also known as Mrs. U or Sugi, her gift will be much more.
On November 18 at 2 p.m., the PHS auditorium will be named in Mrs. U's honor in a ceremony. The auditorium will officially be named the Ruth Farlow Uyesugi Auditorium, and the event will welcome singers, speakers and a video chronicling the local icon's life. Refreshments will be held afterward. All from the community are welcome to attend.
"The auditorium is being named after Mrs. U because of the  programs she has put together for younger students, music, dramatic and all of the theater stuff she has done for the school," said Superintendent Dr. Victor Combs.
Uyesugi found out about the dedication from her son.
"Well a former student called my son and told us and I cried. I always cry," said Uyesugi.
For Uyesugi her thoughts and feelings about the dedication are difficult to put into words.
"It's just really, really important," said Uyesugi.
Uyesugi has been part of PHS drama since it began at the old Hillcrest school and in the cafeteria up until recently.
"I have been putting chairs in that old building for years and years, setting them up and putting them down," Uyesugi said. "I have written plays which they have performed on that stage, and I really, really care."
Uyesugi was very sad to see the old stage in the cafeteria go, but is thankful for the auditorium.
The auditorium is used for many things and she is proud of how it turned out.
"It is so beautiful how it has been done," said Uyesugi.
Her interest in theater began when she was very young.
"I have been writing plays since the fifth grade. I started doing them out of my English classes and when I got ready Larry (Hollan) would always come and do the music, and we would all sing," said Uyesugi.
Uyesugi began her career many years ago.
"I have been teaching 56 years, and I taught them all in Paoli, except for half a year I did in Oregon."
Uyesugi and her husband Dr. E.T. Uyesugi then moved to Paoli.
"He passed in 1989, I never expected him to," she said. "I didn't tell him he could so that wasn't very good on his part."
Uyesugi's role in drama has not only been in the school, but also in the community.
Along with Dale Hottle, Uyesugi began the Orange County Players community theater group in 1970 with their first production of Oklahoma!. OCP continues today.
"(Hottle) didn't have a job, and I said, 'what are you doing this summer?' and he said he didn't have a job. So I said let's start something and it will be Orange County Players," she said.
She been part of performances in the old high school, the cafeteria and now the new auditorium.
The dedication of the new auditorium is overwhelming to her.
"You can imagine how I feel about it," said Uyesugi, "I am happy. I really cried, I can't believe they would do that."
The dedication is a huge deal for the community with over 56 years of former students invited to attend.
"It is a surprise. I didn't expect this to come, I hope they will let a whole bunch of people come to the dedication."
Mr. Larry Hollan, former student and current OCP Artistic Director, is not surprised that the auditorium is being name after Uyesugi.
"If the FBI can have the J. Edgar Hoover building named for long-serving director, and Butler University can have the Hinkle Field House named for a successful coach, it is fitting for Paoli High School to have the Ruth Uyesugi Auditorium named in recognition of the energy, enthusiasm, influence and impact Sugi shares with the performing community," said Hollan.
Hollan has worked in theater with Mrs. U behind the scenes for many years.
"Sugi was drama club's ever-present conscience. 'Well, you can't do that!' was her favorite phrase.  Sugi was always willing to assist with costumes, props and publicity. Behind the scenes, Sugi could be counted on to help kids with money for gas or pizza, or even help out a kid who was going to miss work in order to be in a show," said Hollan.
Uyesugi's love for kids as an educator, and as a member of the drama department, shows.
"Students don't have to be themselves, they can be something else, another person, and that's the beauty of it," said Uyesugi. "I guess that's why I really work hard at making people be in the plays."
Uyesugi's plan for her future is to keep sitting in the auditorium, watching the performances, continuing to enjoy the shows.
"I think maybe a lot of it is because I love people, and I like to see them perform. I love kids," said Uyesugi.
"I figured when I get old, which I don't intend to get old, I was going to come up and watch as they did practices. That's makes me feel real good."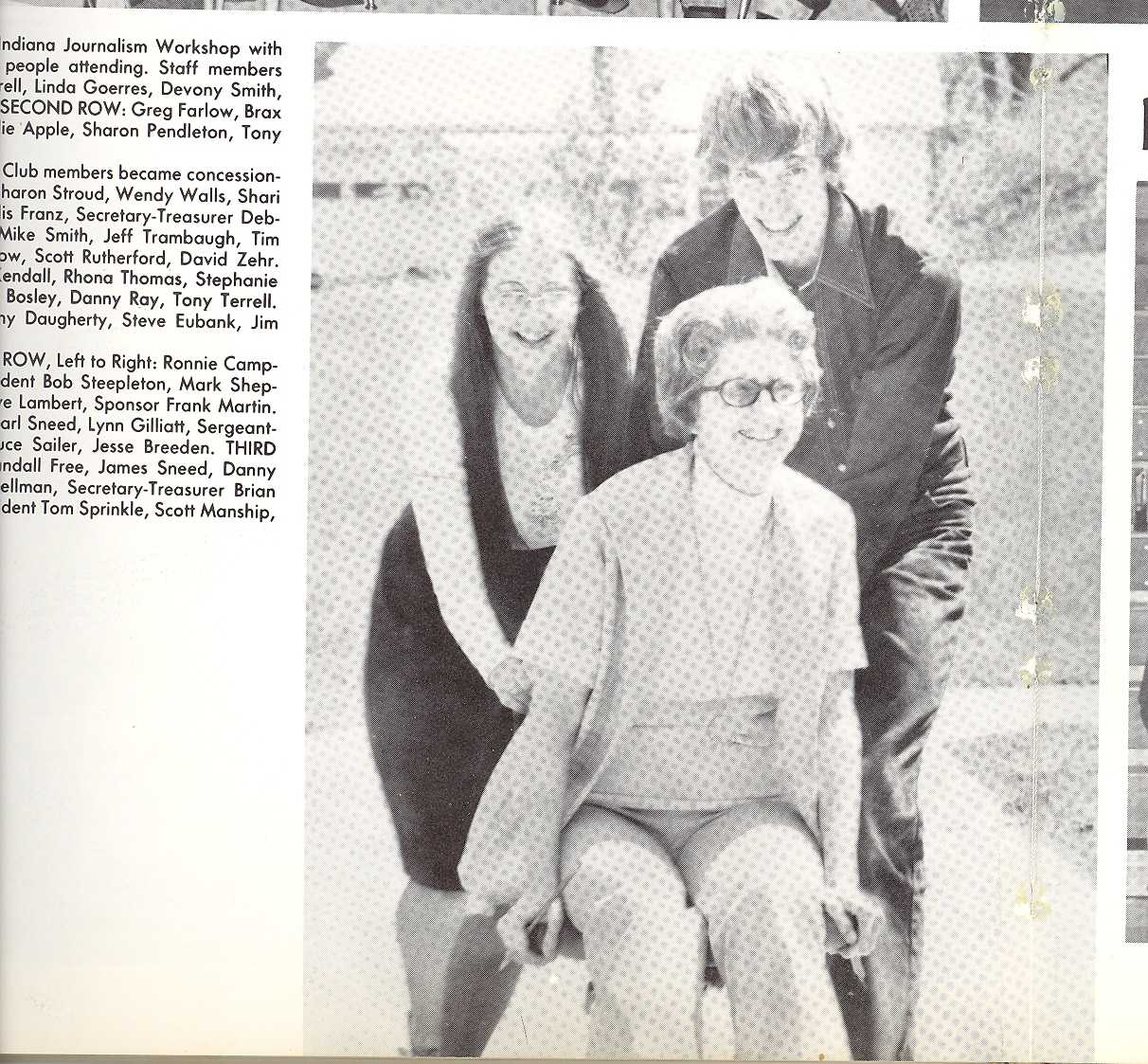 Story by Shelby Waynick