Trip of a Lifetime: Wyatt Plays Hooky for European Adventure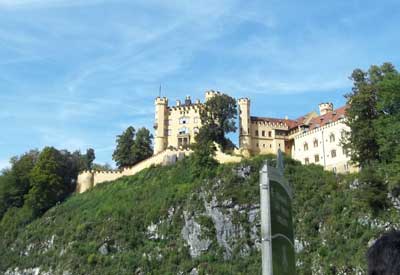 Click, click, click, went Spanish teacher Rachel Wyatt's camera as she took pictures on her trip to Europe.
Wyatt set out for Europe on September 20 and returned September 29. Wyatt, her parents and sister flew out of Indianapolis to Newark, New Jersey then on to Munich, Germany.
While in Europe the group went to four different countries: Germany, Switzerland, Austria and Liechtenstein.
"My favorite country was Switzerland," Wyatt said. "It's one continuous postcard, it's so pretty, it almost makes you cry."
Wyatt's cousin invited her to go to Europe and he lives near Munich, Germany.
While in Germany, the family was able to visit and experience Oktoberfest, celebrating its 179th year.
"We ate lunch (sausage, cheese, frankfurters, pretzels and a vanilla cake) there. The building where we ate at had a seating capacity of 6,000. It was full. We sat next to two girls from Austria and the table behind us had eight guys from Italy," she said.
She also went to Salzburg, Austria; Zurich,  and Luzern, Switzerland. She went to several cathedrals, the Alps and a few castles. Her favorite castle was Neuschwanstein in southern Germany. This castle is the one Disney World's castle is modeled after.
Wyatt plans to show photos of her trip to her students and hope they learn from her experience.
"I am sharing everything about my trip with my students. I took over 300 pictures. I also shared about international travel, applying for a passport, using math (converting US dollars to euros and swiss francs and also kilometers to miles) and lots more," said Wyatt.
Wyatt thinks that anyone who is able to travel abroad should.
"Anytime you travel to another country you learn so much about their language, culture and people," she said.
For Wyatt, the memories with her family are ones she will cherish.
"The best part was traveling with my sister and parents. It's a memory I'll never forget."
Story by Mark Bridgewater; Courtesy Photos Rachel Wyatt