Hunger Pains: Volunteers reach out to help a community in need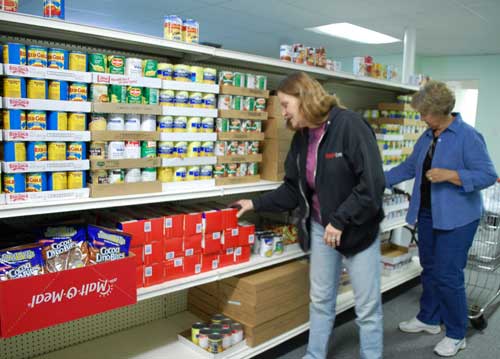 In Orange County there is a huge need for food. The Paoli Food Pantry is doing the best they can to take care of two areas.
"We usually just take care of the Paoli school district but the Orleans Food Pantry has closed so we now care for them too," said Pantry volunteer Caroline Bennett.
The Pantry is currently serving 350 families which adds up to about 1100 people. This number is expected to go up.
"Usually people with seasonal jobs will not be working so they will also have a need," said Bennett.
The amount of food given to an individual family is based on specific criteria.
"Everything is based on the amount of income and the number of people in each family," said Bennett.
Even though it is a food pantry that traditionally accepts non-perishable food, they also accept cash donations.
"Most people do not know that we do that," said Bennett. "With the donations we usually buy groceries ourselves."
Monetary donations allow volunteers can buy what is most needed and missing from the shelves.
"Right now we are in need of soup, fruit, canned meat and peanut butter," said Bennett.
The Pantry is asking that corn, as well as green beans, are not donated at this time.
"We have lots of those products," said Bennett.
With the holiday season in full swing, more people in the community are reaching out and being generous and giving to the Food Pantry. The Food Pantry is very thankful.
"We appreciate all the donations and everyone who has had food drives," said Bennett.
Hot meal tomorrow
Along with the Food Pantry, there is also another group helping out the needs of the hungry in our community.
With the holiday season officially beginning tomorrow, the Paoli Friends Church will be holding a dinner to help those in the community who may not be able to celebrate by offering a free Thanksgiving meal.
"The purpose of the Community Thanksgiving dinner was that no one would eat dinner alone on this special day," said Event Coordinator Sarann Weeks. "Then it was decided that not everyone could get to the Friends Church, so deliveries were necessary."
This Community Thanksgiving dinner will take place tomorrow at the Paoli Community Center.
"We will fill all deliveries and send them on their way from 11 to 11:30 a.m. Most of these deliveries will be made to shut-ins and handicapped," said Weeks.
The serving will begin tomorrow from 11:30 to 1 p.m. This will be carry-out and dine in. Also, there will be music provided by Pete Webb and Danny Jones.
There is a lot of work that goes on with dinner. There is a set-up crew as well as a clean-up crew.  Chairs and tables will be set up Wednesday night and everything will be in place to start at 8 a.m.
"If all the food was served, that is great. If we have leftovers, it is still great as everything is bagged and delivered to the food pantry," said Weeks.
There are many volunteers who help with this event.
"I cannot possibly name everyone that helps. I would leave someone out, and everyone that volunteers or donates in anyway is very important," said Weeks.
The PHS kitchen crew, who feed the students every day, decided to lend a helping hand to the occasion this year too.
"They decided not to exchange gifts this year but to give their money to the dinner fund to purchase turkeys. Now how great is that?" said Weeks.
The community dinner is planning for a big crowd.
"We hope to serve 300 to 350 people and have some food to take to the Food Pantry," said Weeks. "Last year we served 266 meals and took 150 meals to the Pantry."
From the volunteers to the food drives at school, Paoli is fighting hunger.
Story by Shelby Waynick; Photo by Breanna Daugherty