Just Dance: McPherson leads the Dance Team in December performance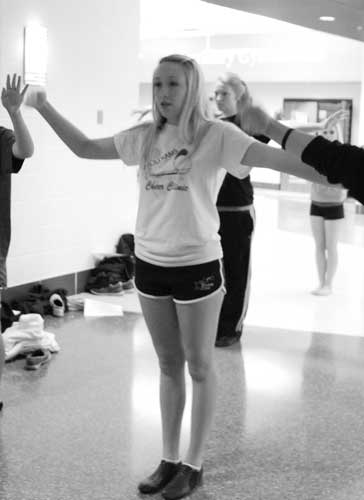 "My mom started me when I was two, so it's just been something I've always done," said senior Nakia McPherson.
McPherson has been dancing for a total of 16 years.
Between school, homework and dance, McPherson is usually pretty occupied. But she claims she can handle the stress.
"It was [difficult] at first but I'm getting the hang of it now," said McPherson.
McPherson says she spends most of her time dancing as the lead choreographer on the PHS Dance Team under the direction of journalism teacher, Heather Nichols and at Kaci's Studio of Dance. She says she has never competed but she's performed for an audience.
"Not yet, but I am going to this spring. I have performed in front of big audiences many times since I was two," said McPherson.
McPherson says she can express herself through her dancing and show her inner person better.
McPherson says being on the dance team has taught her to not be afraid to show who you are. She plans to continue dancing after high school.
The Dance Team returned this year after a two-year break under the direction of Nichols. McPherson has danced with the team since it began.
"Nakia was with me years ago when the dance team was started. And I'm glad she is with me now," Nichols said. "She does a wonderful job and the girls respect her. She makes my job easier."
The team is preparing for their first performance on December 8 at halftime of the boys basketball game.
"I am really excited about this first dance," Nichols said. "The girls have been working so hard on this dance and I am extremely proud. I hope everyone will come out and support all their hard work."
After the first performance the team will also perform January 17 and February 12. Anyone who is interested in joining the team can still do so, contact McPherson or Nichols.
Story by Brooklyn Dotts; Photos by Breanna Daugherty