Big decisions, big consequences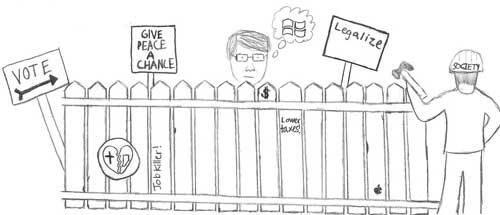 As high school students, on a daily basis, major decisions seem to be the least of our worries.
Instead we are more worried about what to wear to school, who to hang out with on the weekend and which homework is more important. But, as we get older bigger things start becoming more important and we become more aware of the different sides of life.
This year's election is a good example of that.
By now we all know that President Obama will continue to be our leader for the next four years. The path to that victory was very controversial. Teams for each party formed and fought until Election Day, consuming the media and minds of people who want what is best for their country. The big part is, choosing who to vote for. Who seems to be the best, and who is the worst?
It goes deeper than that, life has many situations like this.
First, let me address the progression of the world and what it means when it comes to having an opinion, or one's own voice.
Because it is the way society is: people will always be up in arms about their own opinions. Each and every one of us is guilty of this. But, not all of us fight so much that our opinions start to take a turn for the worst.
Some people get so angry and passionate about their beliefs that they will say anything just to convince someone that their idea is the better choice. Believe it or not, there are people out there who will lie in order to make their opinion matter to us more.
Whether it is a politician, a coworker or a friend, they may try to persuade us out of our own thoughts. That is what we need to be aware of.
Politics seem to be the most known offenders of this, but as I have gotten older, I realize there are a lot of other people in our lives who do this too. Companies, businesses and someone sitting next to you in class may try and say whatever they can to convince you they are right.
Because of this, every decision in our life becomes a competition.
People tell us we have to be on one side of the fence or the other, and both sides can often have their appeal.
The matter just becomes a choosing of the sides.
It's election season, who will you vote for?
You head to the store, which cereal do you buy?
It's time for dinner, what drive-thru should you head to?
Decisions can start off simple and clear, until you listen to the chatter, then decisions can become more difficult and controversial. Questions can become harder to easily answer.
To me it seems humanity has a way of making teams out of every situation, my advice: do not listen.
Maybe if life was a big game, we could all take sides and compete with each other, but I have found you will be happier if you listen to what you actually want and what you actually believe in, rather than picking and choosing from what other people are telling you.
Column & Art by Samantha Patton