Senior Feature: Dylan Beaty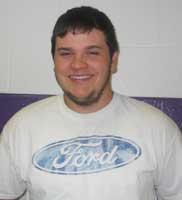 Senior Dylan Beaty has juggled school and work since he was 16, doing both has been a struggle.
"It can be very stressful," said Beaty.
Beaty believes that having a job while in high school really does help you prepare for your future.
"I've been told it creates good work ethic," said Beaty
Although having a job throughout high school can be stressful, Beaty does not have any regrets.
"I don't regret having a job in high school because it pays the bills, pays for gasoline and it is nice having your own spending money."
Not only does Beaty have a job and go to school, he is also planning for college.
Beaty is graduating mid-term to attend Lincoln Tech in Indianapolis. Beaty has been accepted, and has made a few college visits up there. He really enjoys the environment at Lincoln, where he is surrounded by people just like him who all share similar interests.
"I feel that they are friendly, and want me to pass and have a good future. I think I'll fit in, in some areas. Most of the students up there are just small town hillbillies," said Beaty
Beaty will study Diesel Mechanics and Truck Technology.
"Because I want to work with my hands and I don't want to be stuck behind a computer with a pen and paper all day,"  said Beaty .
Although Beaty has not always had an interest in Diesel Mechanics, he has had interest in similar fields, and his love for semi trucks, and the way they work is how he discovered what he was going to do the rest of his life.
For Beaty, there are many perks of going to Lincoln Tech.
"Students at Lincoln Tech graduate and are certified within three months, that's how I decided Lincoln Tech was where I wanted to go," Beaty said. "I am looking forward to being done with school within thirteen months, making bank and doing what I enjoy."
Beaty's ultimate goal in life after graduation would be buying and paying off cars and his house, starting a family while having all their needs met and also being able to provide for his family with as little struggle as possible. He says it is possible for him to own his own business one day, but it would have to be in a bigger town other than Paoli.
"I have always been told that family means everything, and that they are the most important things in life." said Beaty