Senior Feature: Logan Andis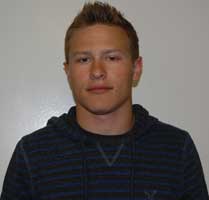 Senior Logan Andis has competed in four years of high school golf. With great teammates and an exciting coach golf is the sport for him. It may be a challenging sport but with enough patience Andis competes at every meet.
"I can play golf with all of my friends and it's always a good time," said Andis.
As Andis competes in his final year of golf he has a big list to complete. Winning Sectional and making it all the way to the State tournament are his ultimate goals.
"The bus rides are the best part of the season," said Andis.
The boy's golf team will be losing several seniors at the end of the season. Andis feels that his job as a senior is to help Coach Whiteman with the under classmen.
"Next year's team needs to remember that you always have to have fun to do well," said Andis.
As Andis's last year as a Paoli golfer comes to a close he says that he will truly miss the bus rides and having Coach Whiteman as a coach.
Story by Abbie Franklin