Senior Feature: Jaleene Mosson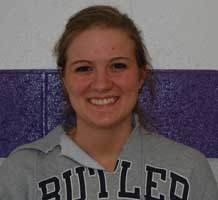 Senior Jaleene Mosson is often overwhelmed with the difficulties of school and work.  Although she is often overwhelmed, she hides it easily.
"I have a 3.8 grade point average," said Mosson.
Mosson plans to attend college, but it currently unsure where she will attend in the fall.
"I am considering University of Evansville, Indiana University or Oakland City," said Mosson.
Right now Mosson is currently working and attending school.
"I go to school all day, go to work at night and work on the weekends," said Mosson.
Mosson plans to work in college, and keep up with her schoolwork.
"I will need the extra money," said Mosson.
As a high school student right now Mosson says she always has a lot of homework.
"I am always overwhelmed," said Mosson.
Mosson is a high school senior that is an example that it is possible to balance school and work; it just might not be the easiest thing to do.