Lawson's and Minton's Sports Life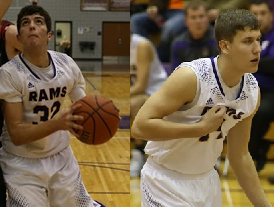 Growing up, it is common for some to get involved in sports early on in their childhood. Sophomore Ashton Minton has been playing sports for as along as he can remember.
Minton plays tennis in the fall, basketball in the winter and baseball in the spring.
Minton has made many memories while playing sports, some of them are good while others are bad.
"My favorite memory with my team is winning the Springs Valley basketball tournament all four years from elementary to junior high," said Minton.
Along with school sponsored sports, Minton has also played on AAU basketball teams and travel baseball teams. His participation in and out of school sports has prepared him for the Varsity spot he has earned on all three of the sports he participates in. Minton has played AAU basketball for Southern Indiana Stars and Southern Indiana Select.
Not many people on the boys basketball team play AAU. One of the few people include sophomore Tyson Lawson who has also played for Southern Indiana Stars along with Indiana Flame.
"It has taught me that there is a lot more talent than just what you see around," said Lawson. He has traveled all the way to Georgia to play in a tournament. Minton and Lawson's favorite part of AAU is the higher competition level and getting to meet new kids.
For some, it can be forgetful how they are students before they are athletes. Along with Minton's many practices during the week, games or tournaments on the weekend, he has always excelled tremendously in the classroom.
"The most difficult thing about being a student athlete is getting all of your work done for school and the amount of work you have to put in to be what you want," said Minton.
Minton enjoys taking on the trust and leadership that coaches and teammates hold him to.
"My participation in sports have made me the person I am today by giving me the determination to do the best I can in whatever I do," said Minton.
Story by Bela Brewster