Advanced Art Class Enters a New Dimension
The 3D art students, along with advanced 3D art, are creating wire sculpture projects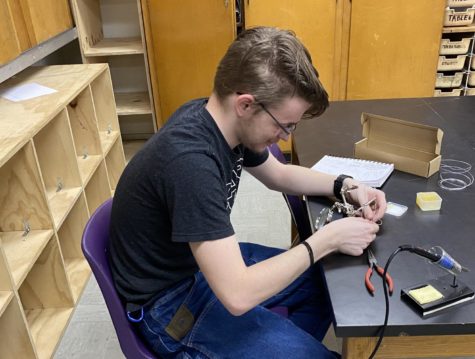 Over the past few weeks, the PHS Art Department has begun a new assignment. 
The project is known as soldering and this is the first year Art teacher Chris Jones has offered this project because of the recently added, 3D art class to his course offerings. 
The 3D art students, along with advanced 3D art, are creating wire sculpture projects, where the students use a soldering iron to attach different metal wires together. 
"This is the first year we've done this particular project.  We added a new 3D art section this year that allowed us to add some new, interesting projects." said Jones.
The assignment is taking slightly longer than Jones and his sculptors expected, however he is still happy with seeing some amazing results among each student.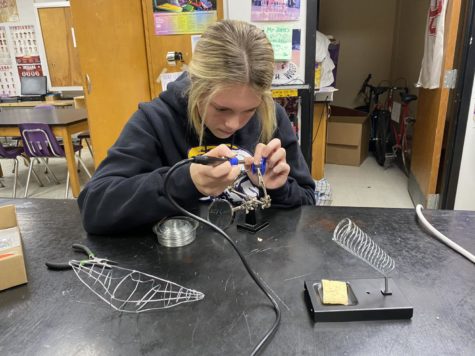 "Since it is our first year with this project, I did expect things to take a little longer than average. It is all about perfecting what works best for the students' pace and abilities now," said Jones.
Some of the soldering projects currently in the works include: junior Madison Warren's cactus, senior Ella Sims' bat, and senior Jackie Crews' manta ray. 
"I just finished my manta ray this Tuesday. I really enjoyed the soldering project and forming it all together because it was something different I had never done before. It gave me a chance to be free and creative with what I created," said Crews.
During their work, they students must take specific safety precautions, because the tip of the soldering iron gets very hot, near 700 degrees fahrenheit. Soldering is a very low grade form of welding, so the students must take their time to ensure proper safety and beautiful results.