Lady Rams Come Together in Honor of Windhorst
Fundraising project raised $5,436
River Fleming, NP Design Editor, Editor in Chief
October 26, 2022|359 Views
Each year in the United States, around 600,000 people die of cancer. Stella and Willson Windhorst experienced this firsthand over the summer when their mother, Sarah, unexpectedly passed away after her short battle with brain cancer. 
Both Stella and Willson are juniors at PHS and Stella is a member of the Lady Rams volleyball team.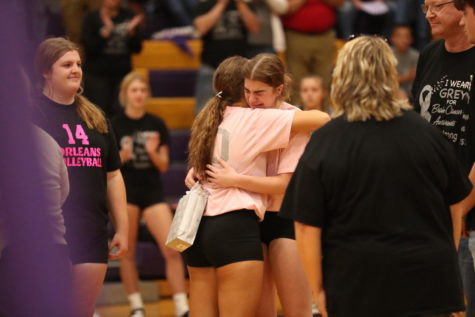 The Lady Rams came together this fall and decided to raise money for the American Cancer Society in honor of Sarah and in support of the Windhorst family as a whole. They held several different fundraisers throughout their season with all proceeds going towards the cause.
The team started by selling shirts in early September. They sold these shirts for $15 to students and staff, as well as people around the community. Shirt raised $970 total.
Additionally, the Lady Rams hosted a dance after the football game on September 9. It was offered to students in grades 9-12 and admission was $5 per person. In all, the students raised $395.
The team also hosted a dinner at the Green Acres Golf Course restaurant. They offered "Sarah's Special" including a 10 oz. ribeye steak, creek baked potatoes, baked beans, and coleslaw for $35. Half of the proceeds from the night went towards the team, making a $800 overall.  
The Lady Rams raised a grand total of $2,936 after all of their fundraisers. Stella and Willson's father, matched the amount, making the final total donated to the Orange County American Cancer Society to be $5,436.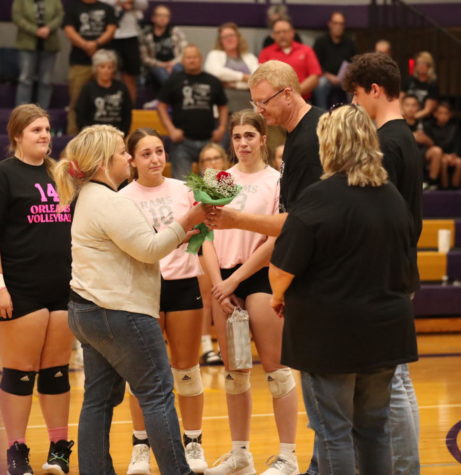 "I thought it was very thoughtful that [the volleyball team] did that. We appreciated it a lot," said Willson.  
On Tuesday, September 27, William and Sarah's wedding anniversary, the Lady Rams hosted Orleans. Both teams came together to honor the night in Sarah's memory. The Lady Rams wore pink jerseys with gray lettering and the Lady Bulldogs wore black jerseys with pink lettering. The gym was decorated with gray balloons for brain cancer and fans filled the stands wearing their fundraiser shirts. 
Furthermore, the girls presented a gift to Stella and her family. Stella was given a necklace and both she and William, were presented with a bouquet of flowers. 
"It meant a lot for the team to pull together because it showed how in the good times and bad, we will always be there to lift each other up. It helped bring some peace to the situation," said Stella. "I hope that people will continue to spread awareness and I thank them for all the support they have shown."