Blankenship in the Spotlight
Senior Shares Love and Life with Music and Singing
Many students have talents unique to them, and for one student at PHS, that talent happens to be music.
Senior Wyatt Blankenship is a musician, singer and songwriter.
Blankenship was first introduced to music at 13 years old by his best friend, his grandfather Paul Spears. When he was a young child, Blankenship's grandfather took him to the Bill Monroe Bean Blossom Bluegrass Festival in Brown County, Indiana. At the festival, Blankenship discovered his love for bluegrass music.
August 19, 2017 was monumental for Blankenship. This was the date of his first official performance in front of others at the Orleans Farmers Market. However, it was also the day he lost his grandfather, who he considered his biggest inspiration.
"I remember the first song that I ever sang at the Orleans Farmers Market was with Becky Sprinkle, Andy Mahler and Pat Kerber, an old gospel tune called 'Paul and Silas,'" said Blankenship.
From that day forward, Blankenship has been a member and co-leader of the Orange County Homegrown Lost River Market Jammers. He has also joined the cast and crew of the local entertainment production "Hoosier Hometown LIVE!" This same group leads Orange County Players, which Blankenship joined last year.
"I picked [music] up soon after my papaw's death because that was a promise that I made to him, that I would continue his legacy by becoming a bluegrass musician. I hope that I have fulfilled this promise," said Blankenship.
In August this year, Blankenship reached out to Paoli Christian Church Youth Pastor Graham Jones to discuss his musical background and the instruments he plays. This led to Blankenship attending this church and getting to join the Paoli Christian Church Praise Team.
Blankenship not only uses his talents in the community but also as a member of the PHS choir.
He has since performed in multiple places, both solo and with other musicians. He has showcased his talents at the Lost River Market and Deli, Owensboro Holiday Inn Riverfront, Schwartz Family Restaurant and other venues. He was even able to perform live on the radio station 89.9 WBRO a few months throughout this year.
"
I picked [music] up soon after my papaw's death because that was a promise that I made to him, that I would continue his legacy by becoming a bluegrass musician. I hope that I have fulfilled this promise.
— Senior Wyatt Blankenship
Blankenship has been able to use these musical opportunities as an outlet to help him with mental health struggles.
When he moved to Paoli from Lafayette back in 2017, he had a difficult time transitioning into junior high at a new school. Blankenship dealt with family hardships and specifically suffered from a lot of anxiety. Blankenship utilized his music as a sort of therapy.
Not only does Blankenship use music to help with his personal struggles, but his music has provided solace for those around him. His abilities were specifically helpful in calming his father, who has many health issues.
"When [Blankenship's father] spent the Christmas of 2019 in the hospital due to infection, I played guitar on his floor for all of the patients. It helped a woman with terrible dementia who was going through quite a few meltdowns. I remember the nurses walking up to me after I had played for about three and a half hours, thanking me and saying that she was the most calm and relaxed that she had ever been while she listened to my music. This moment inspired me to pursue music even stronger than before!" said Blankenship.
Despite finding interest in music at a young age, Blankenship did not discover his capabilities until the fifth grade. Beginning with a simple recorder, Blankenship slowly began to teach himself how to play an assortment of instruments, along with help from other musicians and YouTube videos along the way. Currently, he is able to play the guitar, mandolin, banjo, fiddle, bass, dobro, piano, harmonica and autoharp.
"I am a self-taught musician, which while it was insanely difficult in the beginning, it made me the musician and man that I am today," said Blankenship.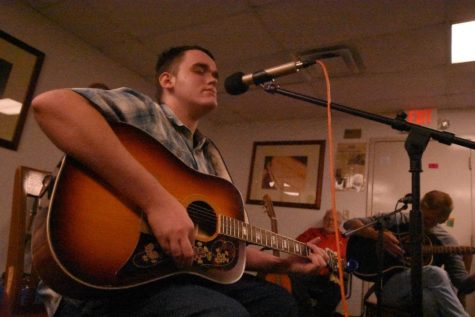 Blankenship also discovered his ability to sing alongside playing instruments. Blankenship has written original songs, but loves to sing bluegrass, country, gospel and folk genres as well.
Blankenship has multiple inspirations that helped him to be who he is today. He credits most of his determination to his family and other musicians he has played music with in the past.
"My grandfather and those bluegrass festivals that I went to with him as a little kid definitely started my inspiration to play music. Then, I do believe that all the rest that has happened to me between August of 2017 and now, had to have been by pure fate," said Blankenship. "My dad has also been my biggest supporter in my music and has never discouraged me from following my own path."
Following graduation, Blankenship plans to attend college to major in either music or religious studies.
Eventually, he wants to move to Kentucky. This is where his late grandfather grew up and one of the many places bluegrass music originated and continues to thrive in today. Once moving south, Blankenship plans to continue his musical journey and further follow his dreams.
"I plan to continue with music the rest of my life," said Blankenship.
View Comments(1)
Your donation will support the student journalists of Paoli High School. Your contribution will allow us to purchase equipment and cover our annual website hosting costs.
About the Contributor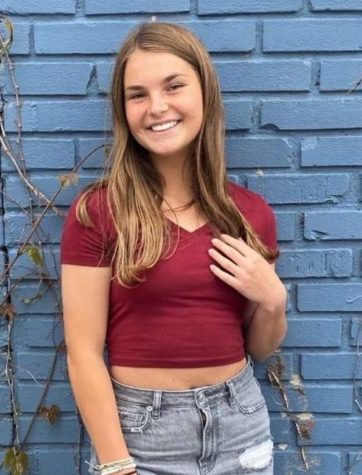 River Fleming, NP Design Editor, Editor in Chief
My name is River Fleming and I am a senior at PHS this year. I play volleyball, basketball, and softball. I'm also involved in National Honor Society,...