King awaits transplant that will change her life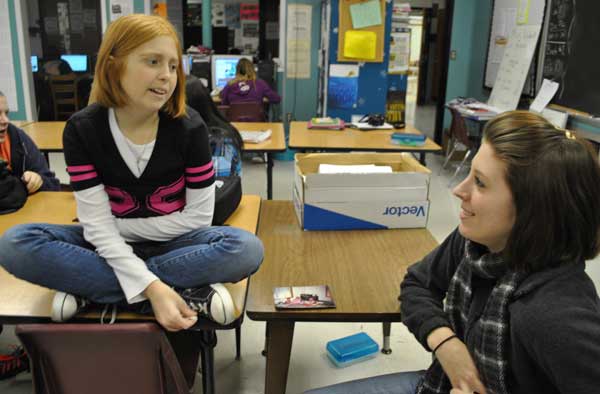 Photo by Breanna Daugherty
King awaits transplant that will change her life
Being told that you have something wrong can be a tough thing to grasp. For senior Mackenzie King, she has taken on the challenge. King was diagnosed with an autoimmune disorder that changed her life forever.
"I have an autoimmune disorder called Wegner's Disease," said King.
King did not realize that she had the disease until she was in elementary school, but it still came as a shock to her.
"When I was nine, we thought I had the flu. We went to the doctor to get labs ran, and the doctor said that I had 5% kidney function," said King, "The doctor said I was born with it, but we didn't know I had it until age 9."
Wegner's is not a symptom free disorder; it comes with a few different types of warning signs.
"Some of the symptoms include: being very tired all the time, weakness, low blood counts, my skin tone changes according to how sick I feel, and there are many lung problems," said King.
Along with the symptoms, King also has to keep track of what her daily routine looks like.
"Every day I have to take about 12 medications, have a strict diet, and limit my activities," said King.
Recently though, King has received some great news. She is on a list for a kidney transplant, and she may be able to get a transplant very soon.
"My transplant will hopefully be scheduled sometime in February," said King.
The donor for the operation is actually someone close to King in her own life.
"My mom is planning to give me her kidney for my operation," said King, "Before she can give me her kidney though, she must go through several, intensive test to get ready for the transplant."
"She is almost done with her testing," King said.
She has mixed emotions about the operation, but in the end she knows it is for the best.
"I am nervous about having the operation done, but I know I will feel much better afterwards," said King.
Life changing experiences can either make life bad, or can be grabbed by the horns. King has chosen to make the best out of life, and live life to the fullest. There is a lesson to be learned from this; no matter what life throws at you, always fight back.
Story by Ian Bostock