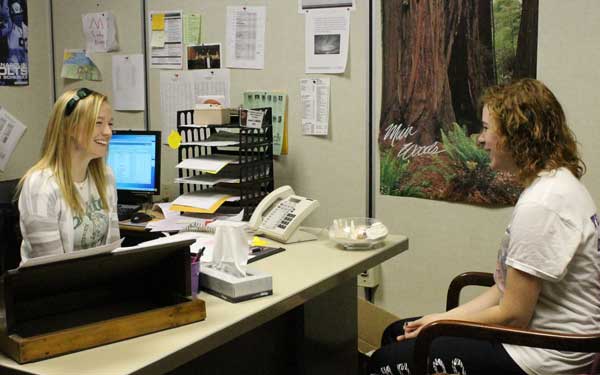 Kerley strives to help students make futures for themselves
When you are little you dream about your future. As you get older and closer to those dreams you start thinking about your dream job. Thoughts about castles and kingdoms turn into collage and money. Making your dreams come true takes a lot of hard work and dedication.  Guidance counselor Brandi Kerley made her dreams come true.
 Kerley attended St. Mary of the Woods collage for one semester then finished off her degree at Indiana State University.  She went to college for six years, but took some time off while earning her degrees. Kerley counsels about ten to fifteen kids a day.
"I enjoy helping students work through issues and help to motivate them academically and help them make career or college goals," said Kerley.
It is easy to have mixed thoughts on which career you want.  When Kerley was ten years old she wanted to be an attorney. Then throughout high school she realized the career she really wanted was a counselor.
"In high school I was bullied, I even had soup dumped on my head in the lunch room and then I knew I wanted to make a difference as a school counselor," Kerley said.
Before Paoli, Kerley worked at a school for autistic children in Boston, Massachusetts and did internships at three other schools.
Kerley has a son of her own. His name is Gage and he is three and a half.
"He is the most fun little guy and can't wait to be a Paoli ram someday too," said Kerley .
High school is a place to find yourself and discover who you want to become.
"Paoli is an amazing school. The staff is wonderful and warm. They care about their students so much. The school spirit in the building is unlike any I have ever seen and I enjoy being apart of that pride. The students here are a joy to work with. I am proud to be a ram," Kerley.
For some people, their work can change their life. Being a counselor, it is easy to get into other peoples lives and see a difference in yours. Sometimes, it can seem stressful.
Teens who struggle with suicide often seek help to a friend. Talking to a counselor or an adult is the best thing to do.  Kerley thrives to help those who struggle with the thoughts of suicide. Dealing with a student or staff who has those thoughts are very delicate people to work with.
"It scares me because; I want students to see how much they are worth and how much they are loved. I want to see all my students live full, wonderful, healthy lives. I can't handle losing any of them and I hope I can provide the right support to prevent it," said Kerley.
Kerley encourages others to be a counselor as well.  She also encourages others to follow their dreams. You never know where they may take you.
Story by Taylor McGuire
Photos by Kelsey Stouse