Fall Production Raises the Roof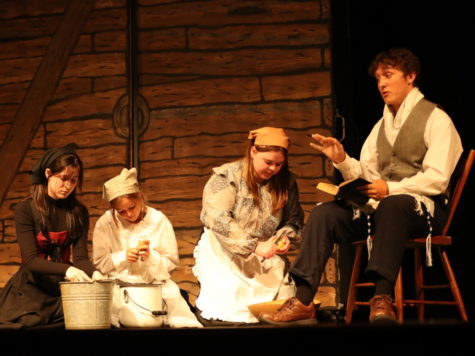 Last week, Thursday through Saturday, the PHS Drama Club performed "Fiddler on the Roof Jr." on the Uyesugi Auditorium stage.
The plot followed senior Adin Monroe in the lead role of Tevye, as he played matchmaker with his wife Golde, portrayed by senior Isabell Shipman. Their daughters, played by eighth graders Cheyenne Carter and Piper Frank, along with sophomores Mary Cook and Lilyanna Beatty, faced the challenge of convincing their father to let them marry for love instead of marrying for money.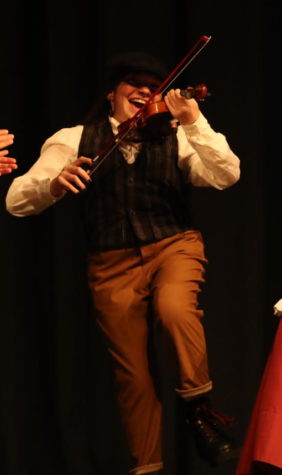 The story is set in pre-revolutionary Russia, specifically in 1905, in an impoverished Jewish village. As the tale progressed, the familial, financial and faith based struggles of Tevye, his wife and his children were laid out.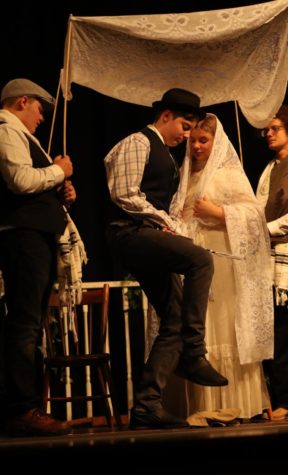 Differences and inequalities in the roles of men and women were also depicted. These hardships were contrasted with warm portrayals of the Jewish culture, community and tradition and the sense of unity within them. Anti-semitism, or prejudice against Jews, was also shown — ultimately ending the play with actors showing how Jews were forced out of Russia.
Although this was a smaller PHS Drama production in comparison to previous plays, the cast managed to both put on performances and learn a lot about how Jews faced adversity throughout the years.
"I'd say my favorite part was learning about the tie-in between the songs that we were singing and their relationship to Jewish culture. It was very enlightening to see that the songs [from the musical] that I had grown up listening to weren't just songs, but were reflections of how real Jewish people felt at that time," said Monroe.