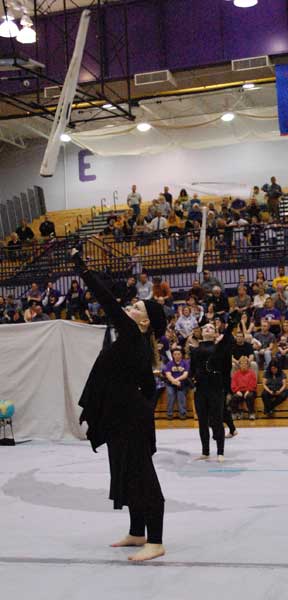 "We Are All Citizens of the Planet" is the name of the 2012 Pride of Paoli winterguard show.
Junior Heaven Ramsey has been in winterguard for five consistent years. She has also participated in colorguard along with the Pride of Paoli marching band also five years. Ramsey, along with junior Lakyn Rutherford, are the captains of the winterguard team this season.
Winterguard is just like regular colorguard but with some slight differences.
For one, the band does not take part with the winterguard. There is also a drum major. The team just has to listen to the music and follow the counts. The performances contain dance and different routines with various pieces of equipment, such as colored flags and rifles.
Ramsey says she is trained to use both flags and rifles and considers herself most talented with the rifle.
The Paoli winterguard so far has traveled to Terra Haute, Owen Valley and Greenfield North for competitions. The girls have received a Silver rating at every competition they have had this season.  As long as they receive a Gold or Silver rating every competition, they get to move onto the next performance.
Considering Ramsey is a captain and one of the oldest members, she is pushed to work harder.
"Lakyn and I work a lot harder. We have to be the role model and do what is expected of us," said Ramsey.
The 2012 winterguard show is themed around different countries coming together at the end.
"My friends and the guard are more pushed with equipment work and dance," said Ramsey on her reasoning for liking guard.
The girls practice every Tuesday and Thursday from 6 p.m. to 9 p.m. As much as they practice, Ramsey plans to be in winterguard and colorguard until she is a senior in high school.
Story and Photo by Brooklyn Dotts